Experience a magical encounter with Santa and his elves during their annual trip to Bellurgan Park.
Come visit him this December before he heads back to the North Pole in time for Christmas Eve.

Santa Claus would like to welcome children and their families to come visit him at Bellurgan Park House in December. He will be lodging at Bellurgan Park House, with its original Georgian period features and the halls decked with thousands of sparkling lights, Christmas trees, holly wreaths and ivy from the estate. This makes the perfect setting for a traditional Christmas and an enchanting experience for children and adults alike.
Book Now by selecting your date and time on this page
An Immersive Christmas Experience
As Santa's guest, you will be greeted at the main entrance of the house before being ushered into the dining room to experience elf school. You will tour the wonders of the house including Mrs Claus kitchen and the elves' workshop. After this, Santa will greet every child and gift them their extra special Christmas present from the man himself in his cosy and magical Grotto.
When the children aren't meeting Santa, the elves will keep them occupied making Christmas tree decorations and cards, gingerbread men and Yule logs to take home. Mrs Claus will be serving hot drinks, homemade cakes and mince pies to keep the gentlemen and ladies merry.
After placing your booking, please quote the name  and email address from the booking for the registration on the day. 
More Details Below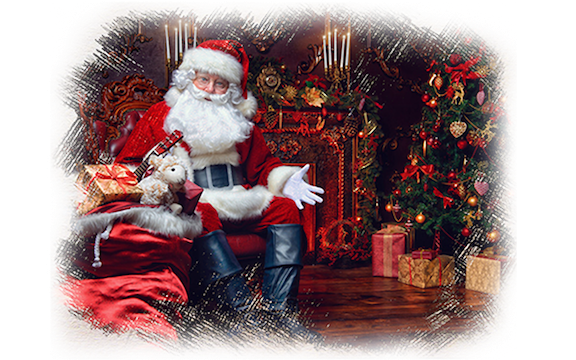 General Info
 The price of a ticket is €25 per child with 2 adults free per family. Each additional adult is 5 euros, payable at the door.
Children under 2 years are free (please contact us for more info).
 Pre booking is essential as tickets on each day are strictly limited to ensure every child has a magical experience.
 All tickets are priced individually please contact us for group bookings.
 Tickets are non-refundable.
 The experience lasts approximately 1 hour.
 Please quote your Booking Name & Email address during registration on the day.
 ENTRY FOR BOOKINGS ONLY