Louth Craftmark Winter Fair
Beautiful Bellurgan hosts first Louth Craftmark Winter Fair International award winning exhibitors for premier North East craft event Complimentary tickets are now available for the first Louth Craftmark Winter Fair on Friday, Saturday and Sunday, November 17, 18 and 19 next at the beautiful and historic setting of Bellurgan Park House, Dundalk. This is a […]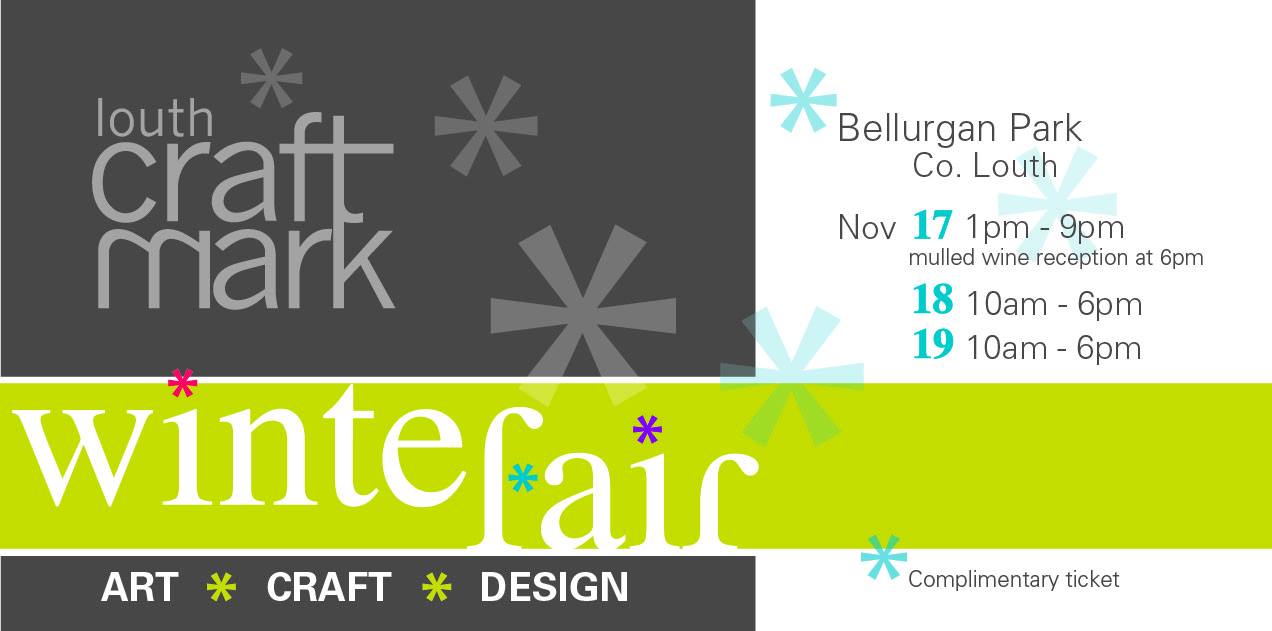 Louth craftmark fair


November 17, 2017 - November 19, 2017




1:00 pm - 6:00 pm
Beautiful Bellurgan hosts first Louth Craftmark Winter Fair
International award winning exhibitors for premier North East craft event
Complimentary tickets are now available for the first Louth Craftmark Winter Fair on Friday, Saturday and Sunday, November 17, 18 and 19 next at the beautiful and historic setting of Bellurgan Park House, Dundalk.
This is a high quality craft fair with a difference. The three-day Louth Craftmark Winter Fair offers a showcase of the finest locally made crafts. It presents a pre-Christmas opportunity to purchase quality products with local provenance in the beautiful, historic setting of Bellurgan Park House.
Exhibitors will include Dundalk-based Cathy Prendergast, internationally renowned as a leading designer and maker of fine, high quality leather bags and Carlingford based Garret Mallon, an award winning maker of handmade contemporary jewellery.
Louth Craftmark is a unique collective of North East-based talented craftspeople, who have come together to provide mutual support. Complimentary tickets for the event are available from the Louth Craftmark website, www.louthcraftmark.com and through its Facebook page.
Through its support of local craft entrepreneurs, Louth Craftmark has ensured that the region has a flourishing design, draft and art sector where makers and their work are valued, developed and celebrated.
Louth Craftmark Designers Network is a group of 50 makers and visual artists based in and around County Louth. This is their first retail fair. The creative disciplines of its membership include Ceramics, Print, Jewellery, Textiles, Woodwork, Furniture, Sculpture and Painting.
The Fair takes place from 1.00pm to 9.00pm on the Friday, and from 10.00am to 6.00pm on the Saturday and Sunday. A mulled wine reception takes place at 6.00pm on the Friday.
Set within its own 390 acres of land, the 18th century house, with its completely original features, proves is an incomparable location.
Note – More on Louth Craftmark can be found here:
http://www.louthcraftmark.com/
https://www.facebook.com/louthcraftmark/
November 4, 2017
Contact: Vincent Gribbin.
086 8292327
vincent.gmemedia@gmail.com
GME Media,
15 The Cedars,
Beaufort Place,
Navan, Co Meath,
C15 D6R3.